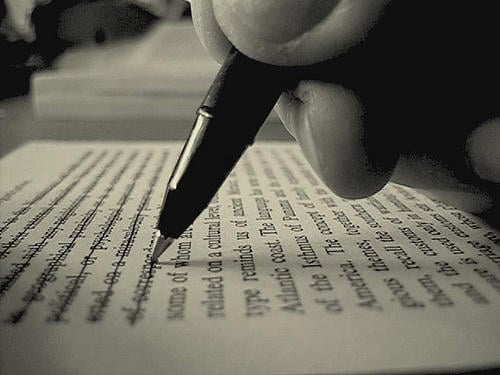 Writing an Effective Blog Post
Blogging, or writing short entries on a website, can allow you to offer opinions, share ideas, or do independent reporting, but most importantly, blogging can help writers have conversations with readers. What makes blogs so different from journalism, as the authors of The Elements of Blogging: Expanding the Conversation of Journalism suggest, is the discussion between writer and reader. Blogs can be a forum for writers to get feedback on half–formed ideas and emerging stances, and through comments, readers can talk with and back to writers and build communities. But what draws readers in? Read through the material below to learn how paying attention to a range of blog elements (including clear headlines, engaging pictures, and distinctive ledes) will help you build an audience.
In The Elements of Blogging, Mark Leccese and Jerry Lanson dissect blog posts in order to identify and examine their key parts. Below are some of the elements they highlight as well as some examples from local blogs.
Headlines (Titles)
A headline or title not only helps draw in readers' attention with an interesting hook, but by containing keywords that Google and other search engines use, the right headline can bring anyone to your blog. As Leccese and Lanson note, search engines work by creating indexes of the words they find on the web. By using keywords in your headline, there is a greater chance that more browsers will find your blog. Headlines, however, are more than just keywords. They need to be short, 10 words or less, and intriguing.
Look at the headline on this article from University of Wisconsin–Madison's Center for Limnology's blog.
Through this blog, the Center for Limnology communicates with university colleagues, Madison residents, and students about current fresh water research and reflections. In this post center staff member Adam Hinterthuer writes about the presence of an invasive species in Lake Mendota. The post's clear, engaging title uses keywords so that this post appears in the first several search results for anyone looking for information about "zebra mussels" and "lake mendota."
When possible, your headlines should be in the present tense, and you shouldn't repeat the headline in the first lines of the post.
Ledes
The first sentence of a post should have a conversational tone and articulate the main point of the blog post. Internet readers can easily navigate away from a post, so making your lede interesting and to the point is important. Look at the opening lines from University of Wisconsin–Madison Antrhopology professor John Hawks' blog post "Bringing together climate and ancient DNA to look at a micro–instance of extinction":
Ed Yong describes the results of a cool new study of mammoth extinction on Saint Paul Island, in the Bering Strait between Alaska and Russia: "The Lonely, Thirsty, Final Days of the Doomed Alaskan Mammoths".
Hawks' post opens with his main point: how scientists determined when and how mammoths went extinct on the island and why it is a interesting case study of extinction. The assessment of the study as "cool" is conversational, and immediately mentioning this study suggests to the reader that this post will both summarize and highlight the methods scientists used. The title of the study itself is intriguing, invoking a dramatic scene. Even though both the study's title and the content of the post could easily be in hyper scientific jargon, Hawks' opening sentence previews his particularly accessible approach for talking to the public about science.
Images
Pictures not only break up text on a page, but they can also help make your point clearer. Pictures tell stories, but they need to be part of the discussion. Include captions by your images that explain how the image adds to the point you are making. For example, look at these two images from Professor Elizabeth Hennessy's post "Global Visions: Rethinking the Globe and How we Teach it" published by University of Wisconsin–Madison's Edge Effect digital magazine:
The blog post is an instructor's reflection, summary, and analysis of an environmental humanities course and the resource website developed by the students as a final project. These images effectively communicate what the blog is saying about our knowledge of the world, which in greatest part is from maps. In teaching this class, Hennessy strove to have her students consider that "global space is a historical product rather than a planetary scale," and thus, global space needs to be understood from the stand point that the "global" is produced by "histories of exploration and imperialism, uneven economic development, scientific inquiry, and environmental change." The 17th century map that opens the blog and the telegraph cable map embedded further into the text emphasize history and imperialism's role in thinking about what "global" means.
Write an Introduction That Grabs and Seduces
Introduction Rule #1. Slip into Their Shoes
Don't get me wrong — as a lawyer, I value solid research. But in the blogging context, this approach bores readers. If you want to captivate instead of bore, you must make readers feel like you're reading their minds.
Example:
Do you feel that?

That little tugging sensation on your heart?

You're not sure what, but something is pulling you to change. Not in a confess-your-sins-oh-ye-sinners way, but to shift directions, to embrace your calling, to finally do what you were put here to do:

Write.

You feel the ideas inside you. You sense them straining to escape. You know your job is to set them free, firing them like a cannon into a world in desperate need of them.

But you're afraid.

You're afraid of quitting your job and living without a safety net. You're afraid of the concerned, disapproving looks your friends will give you when you tell them you're giving it all up to write for a living. You're afraid of not having enough money for food, of the power being cut off, of watching your family shivering and hungry, all because of your "selfishness".

And most of all?

You're afraid you're wrong about yourself.
As writers, we all share the deep longing to embrace our calling and express our ideas, but we also share the fears that so often sabotage those longings — the fear that we don't have what it takes, that we'll crash and burn, and that our dreams are just that — dreams.
Note: You don't need to open like this in every post. There are certainly other approaches, like telling a powerful story. But if you're working on mastering your craft and getting the most impact for time invested, an empathetic opening is an approach you'll want to use frequently.
Introduction Rule #2. Get into Character
So play with your emotions. Map out the emotional journey you're taking readers on, and infuse those feelings into your writing. Feel what you want your audience to feel and your words will exude those emotions.
Example:
I told my three-year old daughter as we stood outside the car in her school parking lot, the rain pouring down on us as she sobbed breathlessly in my arms.

She didn't want to go in the car. She just wanted me to stand there, holding her. And I didn't want to rush her, or tell her to stop crying.

"I'll hold you for as long as it takes."
I felt that longing intensely and definitely shed some tears as I wrote the introduction. The feedback I got from readers was that they felt the same intensity, and even cried as well.
Introduction Rule #3. Lure Readers Down the Page
#1. Open With a Short Sentence or Question
#2. Take a Knife to Your Words
#3. Set the Rhythm
Example:
You're not stupid.

You know what writing is truly about.

It's a never-ending battle for your readers' attention.

Every sentence is a link in a taut chain that connects your headline to your conclusion.

And you are just one weak sentence away from losing your reader forever.
Introduction Rule #4. Make Them Beg
By doing so, not only will readers feel a camaraderie with you (because you understand their fears, so clearly you've tip-toed through the dark side yourself), but they'll feel more eager than ever for the solution you present.
Example:
In his introduction, Glen Long brilliantly taps into the fear of failure all writers experience by addressing the dream of making a living as a writer and then quickly smothering that dream with the doubts that creep up at the mere thought of it:
Introduction Rule #5. Hint at the Promised Land
Why? Because readers bore easily. You must keep them on their toes. And the point of an introduction is not to give answers, it's to set the stage for all the hearty advice your post will provide.
Example:
How to Write an Introduction: Bonus Tip
Editor's Note:
If they click a headline that reads "7 Easy Tips For Losing Weight Fast", and the post begins with an amusing Nicolas Cage anecdote, there's a good chance they will leave — never getting to read the rest of the post, which is filled with weight loss wisdom.
"At no point in your rambling, incoherent response were you even close to anything that could be considered a rational thought. Everyone in this room is now dumber for having listened to it. I award you no points, and may God have mercy on your soul."

That's All She Wrote…

If there's an aspect of writing a blog post that I didn't cover, or you have specific questions about my process or anything generally blog-related, let me know in the comments – I'll answer them as best I can.

Meet The Author

Dan Shewan

Originally from the U.K., Dan Shewan is a journalist and web content specialist who now lives and writes in New England. Dan's work has appeared in a wide range of publications in print and online, including The Guardian, The Daily Beast, Pacific Standard magazine, The Independent, McSweeney's Internet Tendency, and many other outlets.

Source:

https://writing.wisc.edu/handbook/assignments/writingblogpost/
https://smartblogger.com/how-to-write-a-blog-post/
https://www.wordstream.com/blog/ws/2015/02/09/how-to-write-a-blog-post